A female customer who left a giant tip at a restaurant found out the most shocking news recently.
Being as generous as ever, she decided to tip her server for the great food and impeccable service. However, little did she know about what she was really getting herself into.
From having money deducted from her account to a forged signature too, it's the most appallingly bizarre tale. Moreover, it wouldn't be wrong to say that being too nice in a cruel world isn't such a good idea.
Here are more exclusive updates on what her bank statement revealed, the very next day.
A mother who left a giant tip gets a rude awakening
Every customer is entitled to giving their servers a tip.point 278 |
Be it for good food, great service, or personal reasons- the choice is all yours.point 67 | This is why Whitney Anderson explains how she didn't hesitate once when it came to leaving a giant tip.point 158 | Taking her husband and the three kids out for some family time, Whitney enjoyed her experience.point 238 | 1
Her bill rounded off to around $45 at a famous Mexican eatery called Abuelo's Mexican Restaurant.point 202 |
Everything seemed to be going great until the next day.point 46 | And that's when she found out how there was money missing from her account.point 114 | As she sipped her morning coffee, her bank account's history showed how her $10 tip turned into something much more.point 217 | 1
The bank history says it all
Whitney couldn't believe her eyes. Is this what you get for tipping off servers in this country, she questioned. The mother decided to share the news on her Facebook via a post to alert others. How could a server scam her when she was actually generous enough to leave a giant tip?
Clearly, the 25% tip wasn't good enough for this waitress. And that's when she decided to take matters into her own hands. Whitney explains how the waitress forged her signature and added $10 more. Therefore, the giant tip doubled to $20. In the end, she paid $65 for her $45 meal. How's that for unbelievable?
Furious customer heads back to the restaurant
A very enraged Whitney went back to the cafe. There was a lot going through her mind. But the restaurant refused in accepting their mistake.
Not only did they brush off her complaint like it was nothing important, but they also explained how she would get her money back with a delay. And that meant a waiting period of 10 days.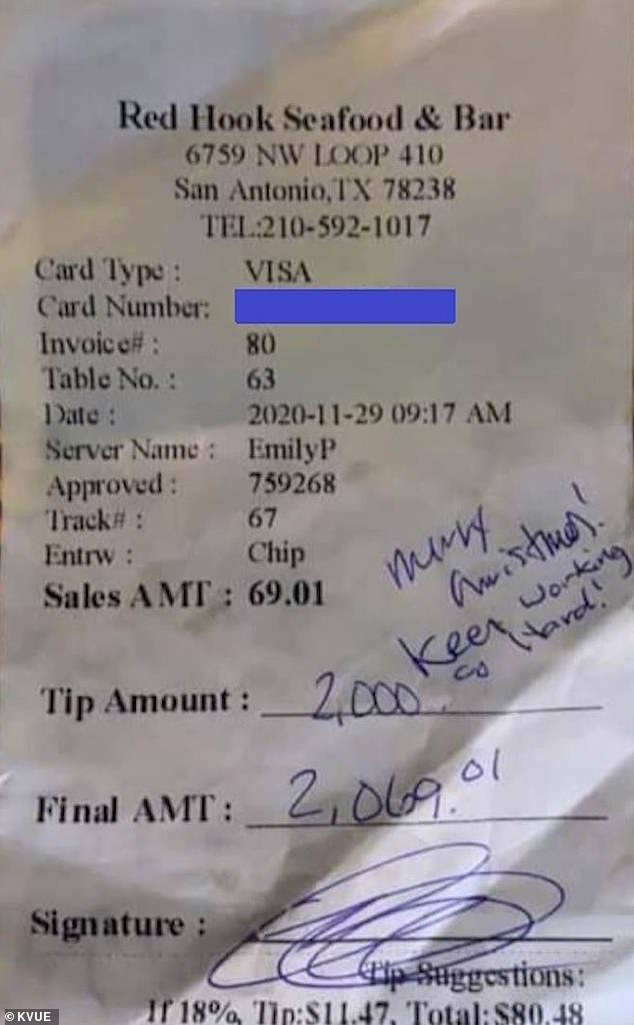 The fact that the waitress committed such a huge fraud is beyond believable. And the manager refusing to confront the waiter for her wrongdoing was even more bizarre.
After asking to see the receipt several times, the manager handed her the fraudulent customer copy as compared to the merchant copy. Again that raised another red alarm. And that's when she found out how the waitress forged her sign with something that wasn't her name.
News spreads to all corners of the city
When the news hit the sharp ears of a local media agency, they made sure that everyone knew about the shady business. Therefore, the restaurant also sprung up quickly in action. They immediately returned Whitney her money, the very next day. So thankfully, that helped.
However, when more investigations into the case began, even more, shocking details came about regarding the same server. This wasn't the first time that she carried out the wrong behavior. In fact, several other restaurants fired her for the same crime.
Without a doubt, this is a lesson that many of us need to learn from. And the biggest one of them all is staying alert. Also, always keep your customer receipts with you. This is because you never know who's wrongfully filling them for you.
For more trending stories from all around the globe, don't forget to take a look at our article Tinder Date Ends In Horror As Man Carries Woman's Body In A Suitcase.